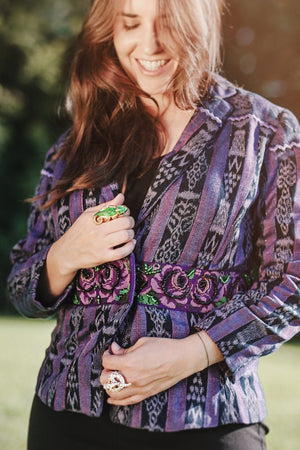 Down to Xjabelle - Purple Jacket with Embroidered Belt
Sale price Price CHF 150.00 Regular price CHF 220.00
Purple jacket made of upcycled "corte" (mayan skirt) with embroidered huipil detail. 
Our mannequin and model are size EUR 38. 
Designer: Isabella Springmühl for Down2xjabelle
Materials: cotton, glass beads
Production method: foot loom
Design: jaspe pattern
Place of origin: Maya region K´iche´
Hand made in Guatemala. 
The designer uses traditional Guatemalan textiles from different regions that already have a life behind them. As a result, the textiles can show small imperfections that give the piece its unique character.